What is Microdermabrasion ?
Microdermabrasion (MD) is a chemical free, non-invasive treatment that uses ultra fine micro-crystals to exfoliate the skin and remove impurities. MD achieves amazing results revealing younger, healthier looking skin from the very first treatment.
With each subsequent treatment, the intensity of the microdermabrasion can be increased – reaching deeper layers and successfully removing acne scarring, lifting pigmentation and smoothing fine lines and wrinkles.
How does it work?
Firstly as an exfoliant, using a stream of irregularly shaped micro-crystals (1) that gently abrade and remove the very outermost layer of skin (2).
Secondly, it regenerates the skin using a vacuum action (3) to stimulate the microcirculation and increase blood flow to the area (4).
The production of collagen and elastin is also stimulated during treatment, improving skin texture and elasticity.
Skin cells and used crystals are drawn away through an exhaust tube (5) to a waste container.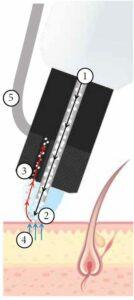 Who is Microdermabrasion for?
Anyone would benefit from microdermabrasion treatments.
It improves the overall appearance of the skin, giving skin a healthy glow and youthful appearance.
Microdermabrasion is also extremely effective at treating a number of skin problems & can be used on the face and body.
What skin problems can be treated?
Microdermabrasion works by removing the top layers of dead skin cells from the skin's surface making it particularly effective in treating acne.
Eliminating dead skin cells unclogs pores and minimises sebum production reducing the chance of new spots developing.
As we age elastin and collagen production starts to slow down.
The vacuum action of the microdermabrasion treatment works to stimulate blood flow, promoting elastin and collagen production.
The combination of collagen stimulation and increased skin renewal will improve the condition of the skin's surface smoothing out fine lines and wrinkles.
Normally skin renews itself approximately every 28 days.
By removing the dead cells from the top layer of the epidermis, microdermabrasion speeds up the rate at which skin replenishes to reveal new, fresh skin and a radiant glow.
Microdermabrasion can't cure cellulite however it will stimulate the circulation improving blood flow to the area.
To improve the appearance of cellulite make sure you drink plenty of water and exercise regularly.
Microdermabrasion can vastly improve the appearance of pigmentation and stretch marks.
The microdermabrasion treatment promotes a 'lifting and smoothing' effect, improving skin condition and diminishing the appearance of stretch marks and discolouration.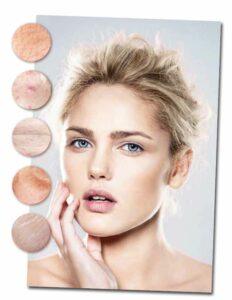 What are the benefits ?
Visible Result Immediately
Healthy Glowing Skin
Return to work straight away
More even skin tone
Painless
Non-surgical
What are the side effects?
After the treatment, the skin may feel tight with mild redness.
It is therefore important to use a good moisturiser.
These effects normally subside within 24 hours of treatment
Aftercare Advice
For 12 hours after treatment - No heavy makeup
For 24 hours after treatment - No swimming. No facial waxing.
For 48 hours after treatment - No sauna, sun beds or sun exposure. No "botox", collagen injections or dermal fillers
For 72 hours after treatment - Do not use anti-aging creams, AHA's, glycolics, retinol or exfoliating products
At all times during a course of treatment
Spf 30 must be applied and exposure to UV should be avoided
Regular moisturiser applications are vital to replenish moisture and prevent the skin from becoming dry and peeling.
Products must be between ph 4.5 and 7
Skin care products that contain a high percentage of botanicals and essential oils are unsuitable for use after microdermabrasion treatment as some of the ingredients contained may cause an a allergic reaction. Should this occur, there is a real danger of both the therapist and client thinking that it is the treatment that they are allergic to, where it is actually the ingredients within the skin care preparation. It is important that products are used that replace or add moisture back to the skin to stop the skin becoming dry or peeling